Zie je door al die tutorials het Azure-bos niet meer? VSTS met Git, whaatt!?
Twee dagen lang, samen met collega's uit het vak, behandelen we klassikaal Azure en VSTS/DevOps (CI&CD) met Git.


Deze Azure Masterclass voor 'Data Engineers', 'Data Architects' en 'Microsoft BI ontwikkelaars', is volledig hands-on!
Je neemt je laptop mee, samen met je eigen Azure subscription en je gaat zelf met je eigen muis Azure en VSTS (DevOps) inrichten.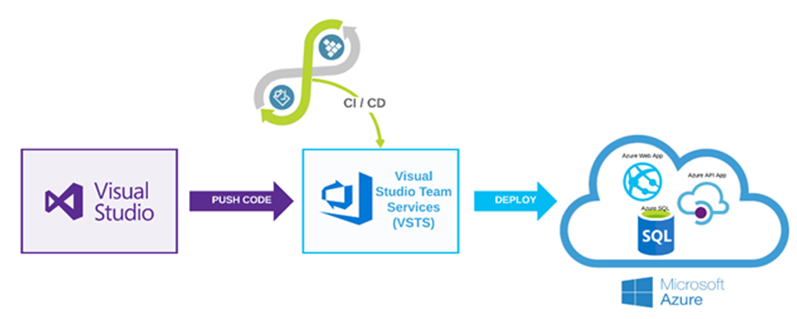 Wat gaan we doen?
Je gaat CSV-bestanden binnen Azure inlezen in een Staging-database, deze data historisch verwerking in een HistoricalStaging, om deze data vervolgens te presenteren binnen een DataMart. Als laatste stap exporteren we data naar CSV, om deze vervolgens te kunnen gebruiken binnen andere Azure Resources. Dit alles doen we volledig m.b.v. Visual Studio Team Services (VSTS) i.c.m. Continuous Integration & Continuous Delivery (CI&CD) en Git.



Wat wordt er allemaal behandelt?
– Azure introductie
– DWH Automation i.c.m. Biml
– VSTS/DevOps Work
– VSTS/DevOps Code i.c.m. Git
– VSTS/DevOps Build (CI)
– VSTS/DevOps Release (CD)
– Data verwerken
– Azure Data Factory Pipelines, SSIS-IR en SSIS packages
– Data exporteren naar andere Azure Resources
– Data Security & Auditing
– Maintenance inrichten
– Azure Cost Management
– ADF Copy toepassingen
– Logics Apps & Webhook toepassingen


Informatie:
Trainer: Clint Huijbers
Locatie: Van der Valk @ Vianen
Duur: 2 dagen klassikale hands-on training
Prijs: € 1.500,- excl. BTW per deelnemer
Wanneer: Q1 2019 (wordt nog ingepland)
Tijd: 09:00u (binnenloop), 09:30u starten tot ongeveer 16:00u


Benodigdheden:
– Laptop met muis met daarop VS2017, SSDT en SQL2016/2017
– Azure subscription (MAPS, MSDN of gratis trial subscription) gekoppeld met VSTS / Azure DevOps


Aanmelden:
We gaan deze training inplannen in februari of maart 2019! Doe je ook mee?
Meld jezelf nu aan door een e-mail te sturen naar clint.huijbers@monkeyconsultancy.nl


De betalingstermijn bedraagt 7 dagen, pas na betaling is de aanmelding definitief.
Indien er te weinig aanmeldingen zijn, behouden we ons het recht om deze training te verzetten of te annuleren.