MonkeyDWH™ is een Data Warehouse (DWH) dat bestaat uit Azure Data Factory- en SQL Database objecten en stelt een organisatie in staat om al binnen enkele dagen inzicht te krijgen in haar eigen data.
Met de hedendaagse krapte op de arbeidsmarkt, telt ieder uur dat gespendeerd wordt aan ontwikkelwerk. Het kan een Data Engineer zomaar uren of zelfs dagen kosten om handmatig additionele tabellen toe te voegen aan het DWH. Daarnaast is het gebrek aan ervaren ontwikkelaars, of zelfs medewerkers die het bedrijf verlaten, een groot risico voor ieder DWH project. Het up-to-date houden van het landschap, bijblijven van alle vernieuwingen binnen het Azure Data landschap en het volgen van trainingen worden hierbij vaak vergeten.
Het MonkeyDWH™ komt samen met een jaarlijks abonnement en is inclusief:
Gebruikerslicentie voor alle gegenereerde Azure Data Factory- en SQL Database objecten voor het DWH
Technische ondersteuning bij vragen
Updates indien er zich code-wijzigingen hebben plaatsgevonden binnen Azure (Data Factory) en de architectuur zich hierdoor moet aanpassen
Een monkey-proof architectuur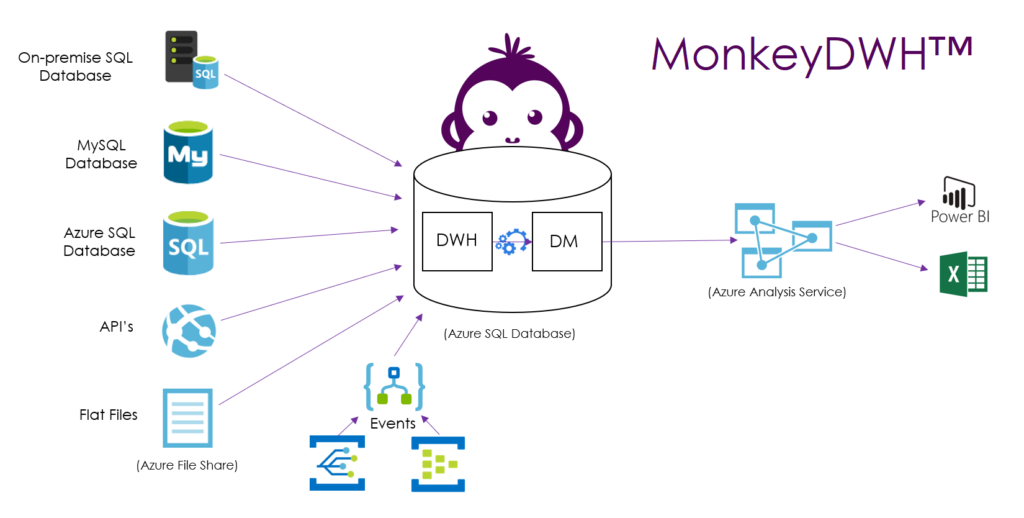 Met behulp van de bovenstaande architectuur zijn we in staat om 44 miljoen records te verwerken uit een externe database m.b.v. vier verschillende verwerkingsmethodes. Dit met een totale doorlooptijd van 28 minuten en 55 seconden:
Benchmark resultaten

Lees er meer over in onze whitepaper en klantcase.

Neem contact met ons op voor een vrijblijvende demo bij u op locatie: clint.huijbers@monkeyconsultancy.nl