SQL Server 2019 is the not yet released version of SQL Server. It will probably be released at the Microsoft Ignite November 4–8, 2019 or PASS Summit November 5–8, 2019.
Nog héél even wachten dus, maar natuurlijk kunnen we al lang spelen met de preview versie:

SQL Server 2019 is the new data platform to solve the challenges of the modern data professional including capabilities and solutions such as:

– SQL Server Big Data Clusters combining the power of SQL Server, Hadoop, Apache Spark™, and Kubernetes to provide an end-to-end data and machine learning platform.

– Data virtualization through Polybase

– Intelligent query processing to gain performance with no application changes

– Mission critical security with Always Encrypted with Secure Enclaves

– Maximum database availability with accelerated database recovery

– Hosting your data on the platform of your choice with compatibility whether that be Windows, Linux, Containers, or Kubernetes
Interessant is om te zien hoe dat SQL Server gegroeid is in de afgelopen versies: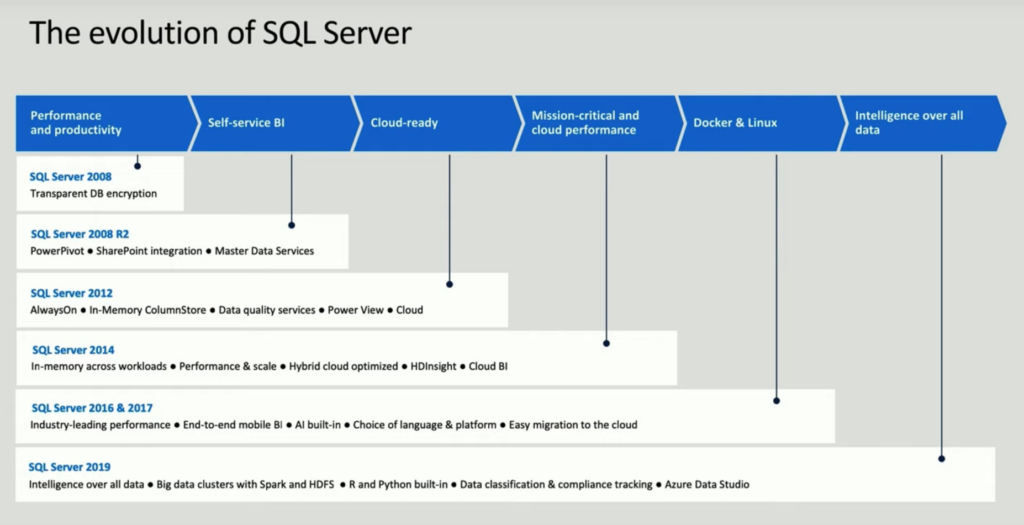 Nieuwsgierig naar alle mogelijkheden? Hier vind je een videoserie van Microsoft.

Nieuwsgierig naar de mogelijkheden van Azure en DevOps?
Neem dan contact met ons op: clint.huijbers@monkeyconsultancy.nl